As many landlords have learned the hard way, being promised that the check is in the mail isn't the same thing as having money in the bank. Improving cash flow is vital for any business, especially for real estate investing. The sooner rent is collected, the faster a landlord can pay the mortgage and operating expenses and claim discounts from suppliers for early payment.
One of the biggest challenges new rental property owners face is how to collect the rent. While paying monthly bills is something that nearly everyone does, collecting the monthly rent from a tenant isn't always as straightforward as it might seem.
---
Key takeaways
Common methods for collecting rent include in-person rent collection, rent payment by mail, and online rent payments and apps.

Paying rent by Automated Clearing House (ACH) debit is the method of choice for both millennials and Generation Z, 2 key demographic groups that typically rent rather than own.

The best ways to collect rent online include Apple Pay, and PayPal, although Stessa is the only system specifically designed for rental property owners.
---
What is the best way to collect rent?
Let's begin by reviewing the most common ways landlords collect rent:
1. Physical checks
Receiving rent by mail is one of the oldest and slowest ways to collect rent. Rent checks run the risk of arriving late or going missing, which can create cash flow problems or incorrectly levied late fees.
2. In-person rent collection
Some landlords bypass the postal system completely and collect the rent in person each month. In-person rent collection can be a good way to visit the property and connect with a tenant. However, tenants may not be home at the time, and collecting the rent in person isn't always convenient for remote real estate investors.
3. ACH transfer or credit card payment
An ACH transfer or direct deposit is an electronic network that processes transactions from one bank account to another. ACH rent payments can usually be made by directly debiting and crediting bank accounts or using a debit card. Examples of ACH transfers include making a payment with PayPal's ACH service or doing an online transfer with Zelle. 
4. Online rent payments
Online rent payment platforms and applications are arguably the most convenient  ways to collect rent from tenants. They're quick, easy, and inexpensive to use, with any small transaction fees generally paid by the tenant. Funds are usually deposited into a landlord's account within 1 to 2 business days, and many online rent payment services have options for automatically charging late fees and for rejecting partial rent payments.
10 ways to collect rent online
A recent report from GoCardless took a closer look at consumer payment preferences and discovered that cash is no longer king. The payment method of choice for recurring household bills is a bank or ACH payment. Payments are processed automatically each month, which many tenants prefer.
Making it easy for a tenant to pay the rent may improve cash flow and can reduce tenant turnover by providing a service that today's renters want.
Here are 10 of the best ways we've found to collect rent online:
Stessa
Stessa, a Roofstock company, allows landlords to accept rental payments online, track expenses, and generate performance reports. Stessa's intuitive interface makes it easy to use for anyone, even for those who aren't especially tech-savvy. 
Stessa's rent collection feature lets real estate investors automate typically manual parts of rent collection, including depositing checks, charging late fees, and monitoring payments for financial reporting. Stessa imposes no fees for either landlords or tenants to use online rent collection, and it offers strong security measures to protect both parties' personal and financial information.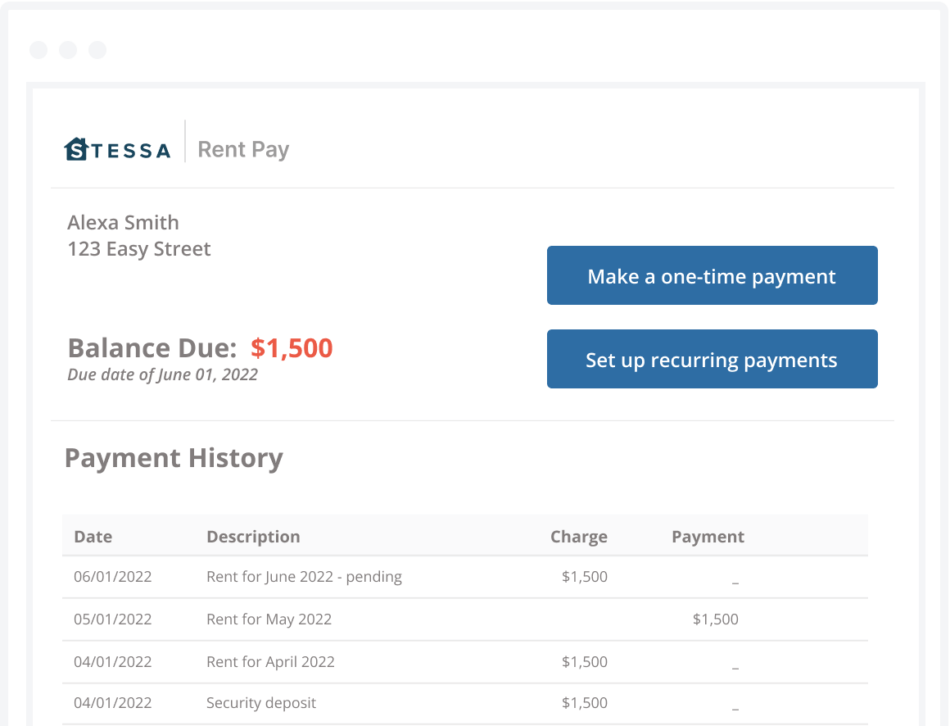 Here's a quick rundown of Stessa's online rent collection features:
Deposit type:

ACH

Deposit times:

2 to 3 business days 

Landlord fees:

None 

Tenant fees:

None

Autopay:

Yes

Late fees:

Coming soon

Real-time notifications:

Yes

Automatic accounting: Yes
Apple Pay
Apple Pay is easy for a tenant to set up and use, although there may be some obstacles for a landlord. Tenants with an Apple device like an iPhone, Mac, iPad, or Apple Watch simply add a credit or debit card to the Wallet app to transfer funds.
To receive a rent payment via Apple Pay, a landlord must also have a personal Apple Pay account or a business banking merchant account that accepts debit or credit card payments. Another drawback to using Apple Pay to pay the rent is that automated payments can't be programmed, so a tenant will need to remember to send the rent by the first of every month.
Cash App
Cash App is a mobile payment service owned by Square that enables money transfers via a mobile phone app. The app works with both iPhone and Android and can be linked to a bank account using a debit card. 
To receive a Cash App rent payment from a tenant, a landlord must also have Cash App installed on a smartphone. Funds can be stored in-app or can be cashed out to a landlord's linked debit card or business account.
ClearNow
Landlords searching for an online rent payment service may wish to give ClearNow a closer look. The company has been serving landlords and tenants since 2000 to collect and pay rent online. 
Rent is automatically debited from a tenant's bank account on the due date and directly deposited into a landlord's account 3 banking days after the debit date. ClearNow charges a debit fee of $14.95 a month for one debit, plus a $2 fee for depositing funds into a landlord's bank account.
ClickPay
ClickPay is an all-in-one payment platform for landlords and property managers. The platform accepts online payments, online bill pay, checks, and walk-in payments where tenants convert cash to ACH at one of over 35,000 locations. 
A tenant can set up automatic rent payments, and funds are debited from a tenant's account on the scheduled date and funded into a landlord's account the following business day.
eRentPayment
In addition to collecting rent payments online, eRentPayment also provides an online property management platform. Landlords can accept applications, screen tenants, track and respond to maintenance requests, and report payments to Experian and Equifax to help tenants build credit history.
Recurring and one-time rent payments can be processed through eRentPayment, partial rent payments from a tenant can be blocked, and funds are typically deposited into a landlord's account 3 to 4 business days after payment processing begins.
PayPal
PayPal has been around for quite some time, and the odds are that most tenants and landlords are already using a PayPal account for personal or business use. A landlord will generally need a PayPal business account to collect rent from a tenant, and a tenant will also need a PayPal account to pay the rent. 
A landlord can set up recurring or one-time invoices for the monthly rent, and a tenant can pay using multiple sources, like debit cards, credit cards, or bank accounts.
PayYourRent
Property managers and landlords use PayYourRent to collect online rent payments, receive applications, screen prospective tenants, and process and manage maintenance requests. 
Pricing plans from PayYourRent begin at $9.95 a month and include one ACH transaction per month and same-day payment processing. Funds from tenant rent payments are generally sent directly to a landlord's business bank account for deposit the same day payment is received.
Venmo
Venmo is a mobile payment service owned by PayPal. After downloading the Venmo app for iPhone or Android, a tenant can send the monthly rent directly to a landlord's Venmo account. 
While Venmo can be used to collect rent, the app isn't specifically designed for rent payments. The service doesn't offer recurring payment or charge requests, and funds are deposited into a landlord's Venmo account instead of a property business banking account.
Zelle Pay
Zelle is a digital payment network that works with hundreds of different credit unions and banks throughout the U.S. The company is owned by Early Warning Services, LLC, which in turn is owned by major banks including Bank of America, Capital One, JPMorgan Chase, PNC Bank, and Wells Fargo.
Zelle Pay can be used to transfer funds the same day directly into a landlord's account within minutes. Transfers are free, Zelle Pay can be used for multiple accounts at multiple banks, and a tenant can set up recurring payments using Zelle (provided the option is supported through online banking).