International real estate investor team Jacques and his wife Carolina currently own 3 single-family rentals and 1 duplex in Memphis. Next month, they'll be closing on a 3-story building in Belgium that will be turned into a small apartment building.
The couple are long-term investors focused on cash flow and are keeping cash in reserve to buy more rental property when the time is right.
1. Tell us about your real estate background – why you started investing in real estate, how long you've been doing it, and how it fits your lifestyle.
Answer: We're a family of four living in Brussels, Belgium. I'm from France, Carolina is from Colombia, and our two boys are 6 and 9 years old. Carolina works from home managing our real estate investments in the U.S. and Belgium. I'm a healthcare IT consultant installing electronic medical record software in hospitals.
I work for my own companies and pay myself a limited salary to keep as much money as possible in the businesses. We use the extra cash to finance our real estate investments. My consulting contracts are usually 2 years long, so when the next one ends, I may work in real estate investing full time.
Our goal is to have 10 houses by the end of 2020, and 20 houses by the end of 2022. That goal sounds aggressive, but with the right mindset we know it's definitely reachable. 
2. What does your real estate portfolio consist of today?
Answer: We currently have 3 single-family rentals and one duplex in Tennessee, and we're in the process of closing on a building in Belgium that we will rehab into apartment property for long-term and short-term renters. In less than 2 years, we'll have a total of 10 doors in our U.S. and international rental property portfolios.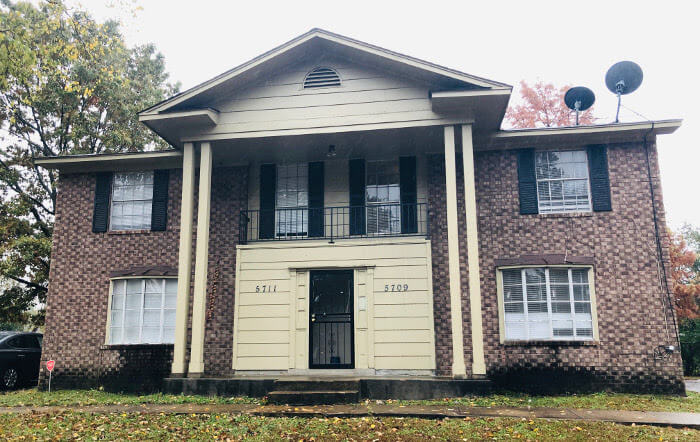 Memphis, Tennessee
3. What's your investment strategy?
Answer: We focus on cash flow by buying turnkey rental properties in Memphis, Tennessee that don't have any major capital expenditures coming up. If the market values increase, that's great. But we're long-term, buy-and-hold investors and we're not counting on an equity gain to make money. If and when the market goes down, we'll keep what we have and buy more with the cash we have waiting on the sidelines.
Because we don't live in the U.S., buying turnkey property there is an investment strategy that makes the most sense for us. In Belgium, where we live now, our investment strategy is different. After nearly 2 years of experience investing in turnkey rental real estate in the United States, we decided to purchase a 3-story building in the up and coming town of Charleroi, Belgium.
We plan on converting the first-floor commercial space into one large apartment. The second and third floors will be remodeled into small suites that we'll rent to students and flight attendants working from the nearby Ryanair airport hub.
The turnkey investment concept that we use in the U.S. doesn't exist in Belgium. So, if things go right with this project, we may decide to launch a turnkey rental real estate and property management business of our own.
4. Why did you start using Stessa?
Answer: Even though I'm pretty good with spreadsheets, I didn't want to waste the time and effort creating one for our real estate business. I happened to hear an ad from Stessa on a BiggerPockets podcast and decided to give them a try, and I'm so glad that I did.
5. How do you use Stessa to track and manage properties?
Answer: I have two rental property portfolios with Stessa. One portfolio is for our 4 properties in the U.S., and the second is for a new apartment building in Belgium that we're rehabbing. After connecting our U.S. bank account with Stessa, transactions get uploaded automatically to the right property accounts. I save an incredible amount of time and effort compared to the old manual way of doing things.
6. What's been your biggest success with real estate investing so far?
Answer: Going from 0 to 5 doors in just 18 months while not even living in the U.S. We did a lot of research to understand how the real estate market works in the U.S. before we purchased any property. Then we found a good source for turnkey rental property, started investing, and have never looked back.
Memphis, Tennessee
7. What's the biggest mistake you've made and what did you learn from it?
Answer: The biggest mistake we almost made was thinking about getting out of real estate investing completely. Six months after buying our first rental property we received an email from our property manager saying the tenant lost their job, couldn't pay the rent, and was declaring bankruptcy to keep from getting evicted.
The tenant finally left, but by then we'd lost almost half-a-year of rental income plus spent $3,000 getting the house ready to rent again. At that point we almost called it quits, but then our mindset changed, and we decided to move forward instead of backward.
We realized that with only one rental property it's either feast or famine. You're either 100% occupied or 100% vacant, and with all of your eggs are in one basket that's a huge risk. But as you scale up and geographically diversify your rental property portfolio risk actually goes down. This change in investment mentality let us move forward to where we are today.
8. Looking back, what's the one thing you wish you'd known when you first started investing in real estate?
Answer: Realizing that the first property is the hardest, so the sooner your start investing the better. That's because there's a huge learning curve, but after the first rental everything is just wash, rinse, and repeat as you scale up your real estate portfolio.
Looking back, I wish we'd started buying rental property about 10 years ago when the U.S. market had bottomed out. The real estate market always moves in cycles, so when the next correction comes, we'll be ready to buy.
9. What's your favorite book on real estate investing?
Answer: My top two favorites are Cashflow Quadrant by Robert Kiyosaki and 7 Money Myths That Are Killing Your Wealth by Keith Weinhold.
10. What's your favorite thing about Stessa?
Answer: Stessa gives us total control over analyzing the financial performance of our rental properties. By having all of our property data in one place, we can use the dashboard to create graphs and reports in seconds. We can also send a complete tax package to our tax preparer right from Stessa, this is very useful.
Mindset matters when investing in rental real estate
Six months into their first rental property investment, the tenant declared bankruptcy and had to be evicted. Jacques and Carolina could have given up on real estate investing but instead created a winning mindset and decided to buy more property in the U.S. and overseas.
Scaling up a rental property portfolio and diversifying geographically helps to minimize risk
Long-term, buy-and-hold investors focus on cash flow and don't take equity increases for granted
Keeping cash on the sidelines lets investors seize opportunity during market corrections
Recently rehabbed, turnkey rental homes make it easy to invest from outside of the U.S.
World-class rental property financial management software from Stessa lets investors monitor individual property and portfolio performance 24/7 from anywhere in the world