Many landlords and property managers find it difficult to get rent paid on time, every time. But there are some things you can do to encourage your tenants to pay early.
In this blog post, we'll give you tips on getting your tenants to pay their rent early. 
7 ways to get tenants to pay rent early
Let's take a look at some tips to make this happen:
1. Offer a discount for early payments
You could offer a 5% discount for rent paid by the first of the month. This would give tenants an incentive to pay early, and it would help you to ensure that you have the cash flow you need to meet your financial obligations.
2. Offer automatic Automated Clearing House (ACH) payments to encourage timely rent payments
Tenants can set up payments to occur a few days before the rent is due.
3. Break down the cost of rent into smaller, manageable payments
Consider offering an option for tenants to make weekly payments. 
You may get a steadier income stream, which can be helpful in budgeting for your expenses. Plus, it shows tenants that you're flexible and willing to work with them, which can go a long way in maintaining positive relationships.
4. Send reminders a few days before rent is due
You may also wish to send tenants reminders via text or email a few days before rent is due. This sets the expectation that rent is due soon and late payments may result in a late fee.
5. Offer a small incentive, like a gift card, for tenants who pay their rent early
 For example, you could offer a $5 gift card for every week that the rent is paid early.
6. Have a clear and concise late payment policy 
If tenants know that they will be charged a late fee or have their rent increased if they pay late, they are more likely to pay on time or even before the due date. To make this clear to the tenant, consider putting it in the lease agreement.
7. Keep open lines of communication with tenants
Make sure your tenants know how to contact you if they have any questions about the rent policy or their bill. If you need to make changes to the rent policy, communicate these changes to your tenants as soon as possible so they can budget accordingly. 
How Stessa makes it easy for tenants to pay rent early
Stessa online rent collection makes it easy for tenants to pay rent early with a free ACH transfer. 
Stessa, a Roofstock company, offers free cloud-based software that helps real estate inventors maximize profits through smart money management, automate income and expense tracking, personalized reporting, and more. 
Stessa was built with the investor in mind to take care of monitoring and analyzing details, so you don't have to. More than 100,000 investors already use Stessa to track over 250,000 properties with more than $60 billion in asset value.
Tenants can schedule rent payments in advance and have the money automatically withdrawn from their bank accounts on the due date.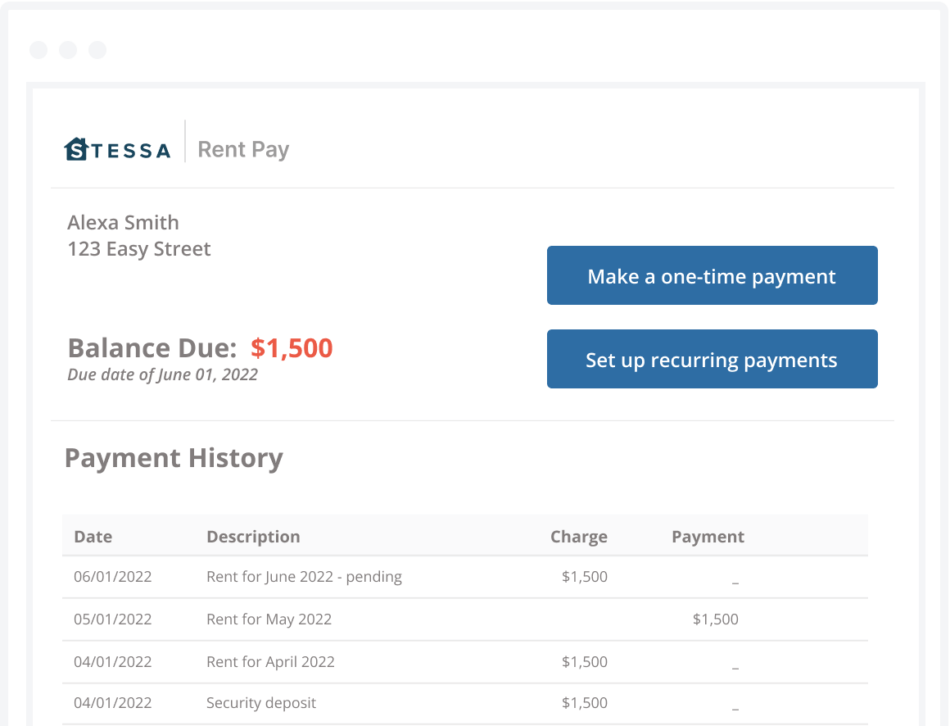 As an added benefit, users who sign up for Stessa's Cash Management deposit accounts currently earn 2.00% APY (compared to the national average interest of 0.03% on checking accounts as of July 2022, according to the FDIC). Stessa Cash Management users can earn interest on balances from automated rent collection deposits, CapEx account, and operating account.
Annual Percentage Yield (APY) of 2.00% is effective as of 8/5/2022. No minimum opening deposit or account balance required. Fees could affect earnings on the account. Stessa is a financial technology company, not a bank. Banking services provided by Blue Ridge Bank, N.A., member FDIC. The national rate is the average of rates paid by all insured depository institutions and credit unions for which data is available to the FDIC, with rates weighted by each institution's share of domestic deposits.
Giving tenants the option to pay rent online also offers landlords a number of benefits. Online rent payments are easier to track and manage than paper checks.  
Online rent payments often clear faster than paper checks. Landlords can get their money sooner, which is helpful if they have expenses that need to be paid on a set date.
Through Stessa, landlords can invite tenants to pay rent online by signing up and securely linking their bank accounts. Tenants also have the option to schedule recurring rent payments.