Why are some real estate investors more successful than others?
More often than not, the answer comes down to choosing the right tools and software to analyze potential deals, managing rental properties for maximum profit, and knowing when to sell and when to hold.
In this article, we'll take a look at some of the best real estate investor software solutions on the market today, including one that is absolutely free.
What is Real Estate Investor Software?
Real estate investor software is used to analyze the potential financial performance of a rental property and to monitor the income and expenses, cash flow, and net income of assets at a property and portfolio level.
Choosing the best real estate investor software that's right for your business can help make the difference between a property barely breaking even or generating solid, consistent positive cash flow year after year. 
Features to Look for in a Great Tool for Real Estate Investors
The right real estate investor software for one property owner isn't always the right choice for another. Property types are different and investment strategies vary. With that in mind, here are some of the most important features to look for when evaluating real estate investment software:
Flexible enough to handle a variety of property types, including single-family homes, small multifamily properties, and short-term rentals. 

Real estate investment software designed to help you scale up and grow your rental property business.

Ease of use via a desktop or laptop, tablet, or with a smartphone app for both Android and Apple.

Ability to monitor asset performance at both the property and portfolio level.

Creation of a paper trail for income and expense items.

Upload, organize and store online all rental property documents.

Little or no learning curve needed to enter a rental property, connect accounts, run financial reports, and view property and portfolio level reports from a single dashboard.

Export tax-ready financial statements to make year-end reporting go quickly and smoothly.

The industry's best security to protect personal data that is never shared with a third party.

Cost-effective and free of complex features that most rental property investors never use.

Responsive customer service where you can contact a real live person by phone, email, or even Twitter.
The Best Real Estate Investor Software Systems
Stessa
Stessa is a cloud-based asset management system that makes rental property finances simple. Real estate investors use Stessa to maximize potential profits with automated income and expense tracking, personalized reporting at both the property and portfolio level, and smart money management. 
Rental property investors with single-family homes, small multifamily properties, and short-term rentals use Stessa to:
Maximize revenues with real-time insights

Automatically categorize income and expenses

Upload and store rental property documents

Generate customized financial statements and tax-ready reports

Grow a residential rental property portfolio with confidence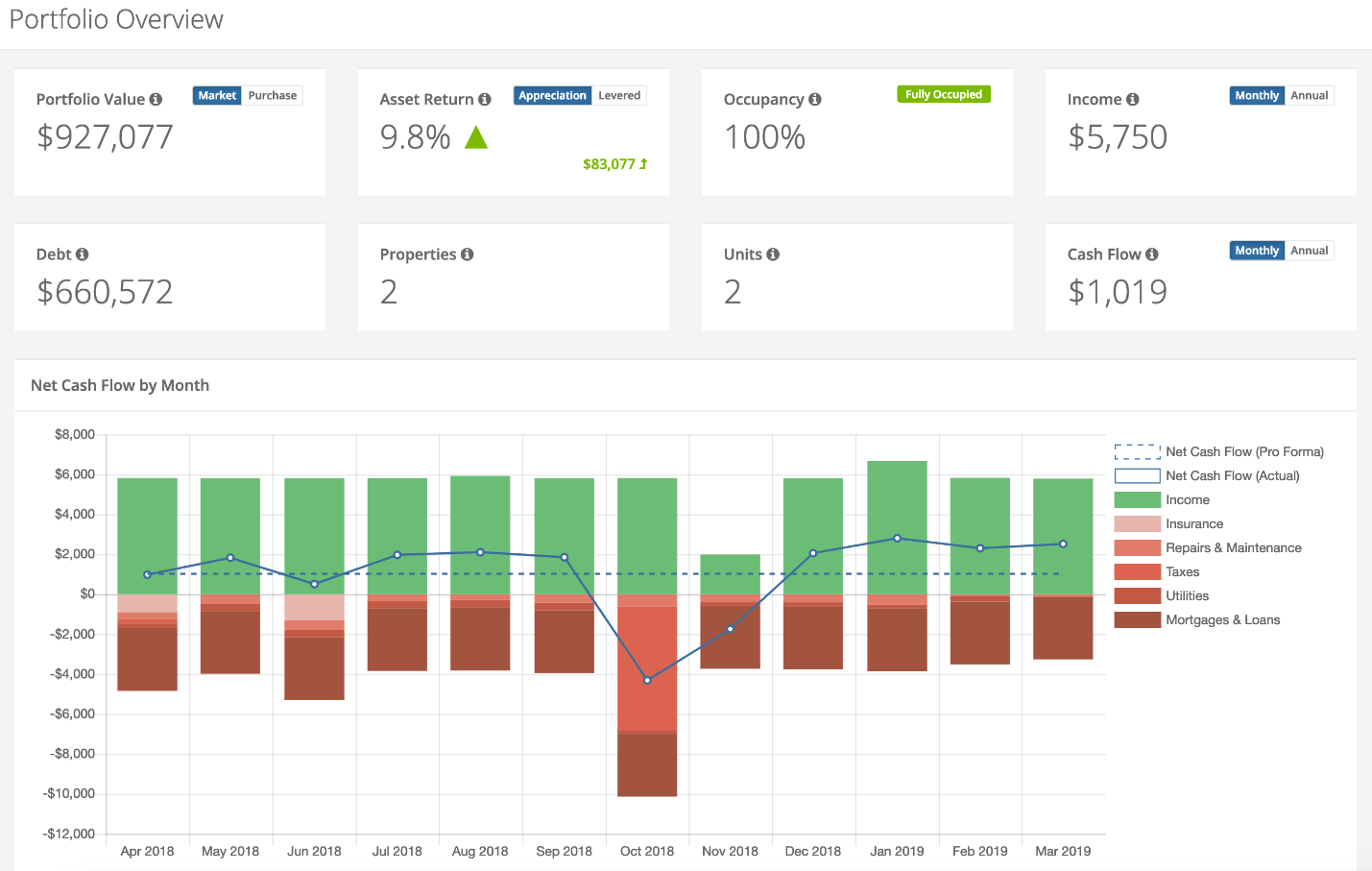 To begin using Stessa, simply enter a property address, connect your accounts quickly and securely, run the reports you need, and see your stats come to life on your personal owner dashboard. Pricing is free, with premium services such as rental comps and mortgage financing available for a fee.
DealMachine
DealMachine touts itself as being the #1 app for real estate investors, based on installs and reviews. The company offers multiple software plans, including driving for dollars to build your own list of properties, skip tracing, and real estate data. Pricing begins at $49 per month.
Valuate
Valuate by REFM is the ideal software solution for multifamily core and value-add real estate investors. Properties can be modeled from the rent roll through unit renovations, refinancing, and sale. The software can be used for all types of income-producing multifamily properties, plus short-term fix-and-flip investments. 
Analytical tools include a cap rate calculator, monthly and annual ROI, cash flow and resale analysis, and cash on cash returns. Pricing ranges from $19 to $49 per month, and there is also a free starter plan.
RealData
Designed for real estate investors and developers, RealData helps you make informed decisions and evaluate real estate investments just like the pros do. The company has multiple products, including REIA Express for small residential investors, and REIA Professional for investors with large portfolios. Software bundles range from $209 to $1,499.
Analyst PRO
TheAnalyst PRO is rated by CRE Tech as the #1 investment modeling software, including lease analysis, demographics, and offering memorandums. The software is designed for professional real estate investors who want to complete the most complex investment analysis calculations in minutes. Pricing ranges from $69.99 per month to $599.99 for an annual license.
RealNex
RealNex is touted as the best software for an all-in-one platform. This real estate investor software includes real estate analytics, marketing and lead management, and customer relationship management (CRM). RealNex is used by brokerage firms, investment brokers, leasing agents, and property owners and asset managers with medium and large-sized property portfolios. Pricing begins at $149 per month for a single user. 
ProAPOD
ProAPOD offers two real estate investment software solutions to start, build, and scale up a rental property business. In just a few minutes investors can calculate the cash flow, rate of return, and generate proformas for residential multifamily and commercial properties. 
One-time pricing for software packages ranges from $149.95 to $279.95, plus the Pro RE Calculator suite of 62 real estate calculators for a one-time fee of just $79.95.
PropertyMetrics
PropertyMetrics offers an easy way to create, analyze, and share a commercial real estate proforma online. Investors can build a detailed cash flow proforma from anywhere, run a discounted cash flow analysis, and generate presentation-quality PDF and Excel reports. 
The web-based software is simple to use, works with multiple operating systems including Windows, Mac, iOS, and Android. PropertyMetrics offers a 7-day free trial, but you'll need to contact them directly for monthly pricing.
PropertyTracker
PropertyTracker offers two online tools – Property Evaluator and Property Tracker – to help manage real estate investments. Evaluator takes the guesswork out of finding the best real estate investment by showing all the factors professionals use to compare properties. Tracker is a tool real estate investors use to monitor key financial indicators, learn how to maximize profits, and make smarter management decisions. 
Pricing is $37 per month after the free 14-day trial, with optional services for accounting and tax advice ranging from $50 to $150 per hour.
Real Estate Analysis Software, LLC
Knowing if you should buy, sell, or just keep looking is getting more and more complicated every year. Software solutions from Real Estate Analysis Software, LLC include the Cash Flow Analyzer Pro Software for long-term rental investors, and the Flipper and Rehabber Pro Software for single-family and residential property house flippers and rehabbers. Pricing starts at $99.95 up to $199.95 for a combo package.
Visit Real Estate Analysis Software
Rehab Valuator
This real estate investor software is used by rehabbers, house flippers, and wholesalers to calculate offers and analyze deals, market and share deals with buyers, create deal-funding presentations, and manage projects and budgets. Rehab Valuator calculates key financial metrics such as after repair value (ARV) and maximum allowable offer (MAO) under multiple what-if scenarios. Pricing ranges from $49 to $99 per month, plus there's a free Lite Limited Version.
REIPro
REIPro offers a complete package of must-have tools for real estate investors including real estate CRM, MLS comparable sales, deal analyzer, quick property information lookup, premium phone number search, and ongoing education. This real estate investor software works with everything from individual single-family homes to large commercial properties anywhere in the U.S. Pricing begins at $97 per month for a single user.
Zilculator
Residential real estate investors can automate property analysis with Zilculator. This software pulls data from the MLS, Zillow, and Rentometer to create professional-grade investment reports in minutes. Pricing ranges from $13.60 per month to $23.20 per month on an annual billing plan.
Argus
Argus provides real estate investor software solutions for owners and investors, asset and portfolio managers, fund and investment managers, and property developers. Features include valuations and cash flow analysis, scenario and risk analysis, and budgeting and strategic planning. Contact for pricing.
Wrapping Up
Real estate investor software is a powerful tool that rental property investors use to analyze potential deals, monitor the performance of income-producing real estate, and scale up and grow real estate portfolios of all shapes and sizes. 
The best software for real estate investing is versatile enough to handle single-family homes, multifamily properties, and short-term rentals. You should be able to track income and expenses, create a paper trail, and generate tax-ready financial reports at both a property and portfolio level.
While there are a variety of software solutions to choose from, many investors are pleasantly surprised to learn that the best real estate investor software is absolutely free.