As a landlord, you must stay on top of payments to keep your tenants happy and your business running smoothly. But with all the different payment methods available, it can be tough to know which is best for you.
So we've ranked rental payment methods for landlords. Keep reading to find out more.
---
Key takeaways
A good rental payment method will make it easy for tenants to pay their rent on time and help landlords to avoid late fees.

Automated Clearing House (ACH) transfer (direct deposit) is generally the most efficient way to collect rent payments since there's no need to wait for a check to clear or worry about lost or stolen cash, and ACH rent payments are usually free.

Personal checks can be problematic because they can get lost in the mail or bounce if there are insufficient funds in the tenant's account.

You could allow tenants to pay rent with credit cards, but beware that fees are typically involved (often around 3%).

Another option is to consider accepting electronic payments through a third-party service like PayPal or Western Union, although users typically have to pay a fee.

Useful rental payment methods allow for automatic payments and provide a clear record each month.
---
1. ACH transfer
An ACH transfer allows you to send money from one bank account to another. ACH transfers are typically used for recurring payments, such as utility bills or rental payments.
There are several benefits to using an ACH transfer to collect rent online:
Convenience.

An ACH transfer can be set up automatically on a specified date, so you don't have to worry about manually processing rental payments each month.

Security.

ACH transfers are processed through a secure network, so your tenants' sensitive banking information is never exposed.

Affordability.

Unlike some other rental payment methods (such as credit cards), there are typically no transaction fees associated with ACH transfers.
There are potential drawbacks to using an ACH transfer to collect rent:
Timing.

Depending on your bank's processing time, it can take a few days for an ACH transfer to go through. This means that if a tenant pays rent on the first of the month, you might not actually receive the funds for a few more days.

Reversals.

In rare cases, the tenant's bank can reverse an ACH transfer. If this happens, you'll need to work with your tenant to get the rental payment reprocessed.
Overall, using an ACH transfer with Stessa online rent collection could be the best rental payment method for landlords.
With Stessa, you can automate your rental payments so they're processed on the same day each month, and you'll never have to worry about transaction fees. Your tenant rent roll report and income statement will be automatically updated, and Stessa's secure platform ensures that your tenants' banking information is always protected.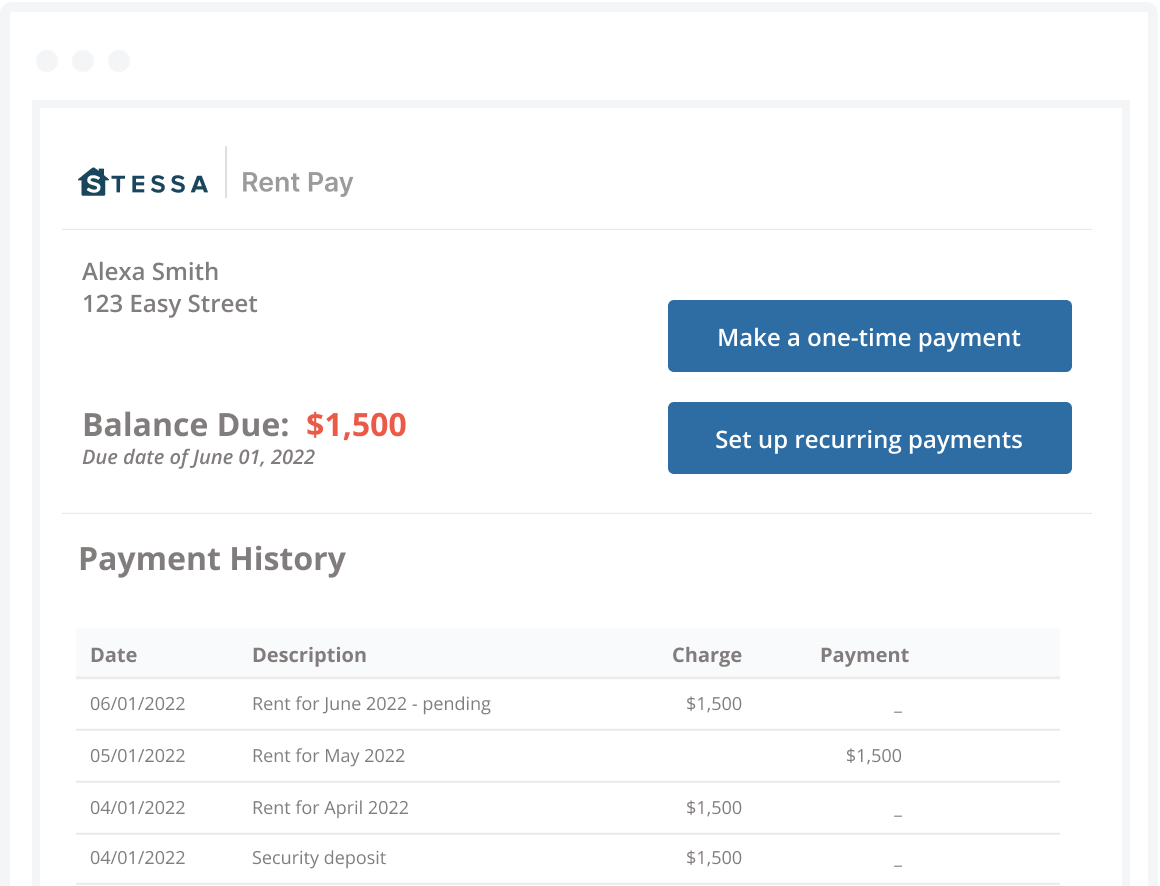 2. Debit card
Some landlords allow tenants to pay their rent via debit card.
On the plus side, collecting rent via debit card can be convenient for both parties. The tenant can simply pay online or over the phone, and the funds will be transferred immediately into the landlord's account. This can be a particularly useful option for tenants who are often away from home or have a busy schedule.
There are potential downsides to using a debit card to collect rent. For example, if the tenant doesn't have enough money in their account to cover the rent payment, it could cause some serious financial problems for both the tenant and the landlord.
Additionally, some fees may be associated with using a debit card for rent payments, so it's important to check with your bank or financial institution before you agree to this payment method.
3. Credit card
Some landlords view offering credit card rent payment as a convenience to tenants who may not have cash or checks on hand when rent is due. In some cases, using a credit card to pay rent may even help tenants build their credit scores.
On the other hand, there is usually a processing fee associated with credit card payments, which can add up over time. Some credit card companies may not allow renters to use their cards for rent payments, so it's always best for renters to check with their card issuer.
4. Money transfer services
There are a few third-party money transfer services that you can use to accept online rent payments, like PayPal, Venmo, and Zelle. 
All 3 are popular, fast, and convenient, and many people already have an account. There can be fees associated with using each, which can eat into your profits.
5. Check
The nonsufficient funds (NSF) fee is probably the biggest downside to paying rent by check. If your tenant's check bounces, you'll be charged a fee by your bank. 
Another potential downside is that the check may take a few days to arrive in the mail. This can be especially problematic if your tenant is late on their rent. With an online rent payment system like Stessa, the funds are received immediately with a free ACH transfer, so you don't have to wait for a check.
Paying rent by check does have a few advantages, though. For one, it's relatively low-cost and free for your tenant. Another advantage is convenience. Your tenant can simply write a check and drop it in the mail. They don't have to worry about transferring funds or setting up an account with an online rent payment system.
6. Cash
Some landlords give tenants the option of paying the monthly rent with cash. For some people, cash is still the most convenient and familiar way to pay for things.
However, there are pros and cons:
Pros
Cash is immediate—landlords do not have to wait for checks to clear or for electronic payments to process.

Landlords can avoid fees associated with other rent payment methods.

Some tenants may prefer to pay rent in cash.
Cons
There is no record for cash rent payments, so it can be more difficult to prove that the rent was paid if there is a dispute later on.

It can be risky to accept large amounts of cash.

Cash can be easily lost or stolen.
7. Money order
A money order allows the payer (tenant) to designate who should receive a specified amount of money. Money orders are often used when the payer does not have a checking account or when the payee (landlord) does not accept cash.
Some landlords give tenants the option of using a money order to pay rent because it is a guaranteed form of payment.
Money orders are available at many convenience stores. They are also considered a safe form of payment because the payer's bank account information is not included on the money order.
However, a fee is usually associated with purchasing a money order, typically about $5. Also, if a tenant loses their money order, they will also lose the cash used to buy the money order and have to pay for another one. 
Closing thoughts
Arguably the best option for landlords to accept rental payments from their tenants is online rent collection. This method is convenient and eliminates the risks associated with other methods. Additionally, online rent collection provides landlords with a record of when the rent was paid.
Stessa online rent collection is a great solution for landlords looking to collect rent online from their tenants. It is easy to use and provides a safe, secure, and free way to accept rent payments.
Additionally, Stessa allows landlords to track when rent was paid and automatically send reminders to tenants when rent is due.