As a rental property owner, you're always looking for ways to simplify your life and save money. With so many software options on the market, it can be hard to know which one is right for you. 
In this post, we'll compare TurboTenant and Avail—2 of the most popular rental property software options—to help you make an informed decision about which one is right for you. 
We'll also take a look at Stessa, free property management software that is already used by over 100,000 investors to track over 250,000 properties. 
---
Key takeaways
TurboTenant is cloud-based software with features like online advertising, tenant applications, screening, and rent payments.

Avail rental property software is designed to help landlords and real estate investors stay organized with features for marketing vacant property, managing tenants, and online rent payment options. 

Both TurboTenant and Avail offer free and paid pricing plans.

Stessa is a free cloud-based reporting and accounting software used to receive recurring online rent payments and track property and portfolio performance metrics for unlimited single-family houses, multiunit properties, and short-term vacation rentals.
---
TurboTenant overview
TurboTenant provides features like online advertising, tenant applications, screening, rent payments.
With 24/7 customer service online and by phone, landlords can get started with TurboTenant with little to no upfront costs. Optional services, like lease agreements, landlord forms, and digital signatures for signing leases online are also available for an extra charge.
Pricing
TurboTenant offers  free and premium plans. The premium plan is billed annually at $59 and includes additional features formanaging multiple rental properties.
Free
Unlimited properties

Rental advertising

Lead management

Applications and screening

Automated reference checks

Rent payments

Rent reporting

Expense tracking

Maintenance requests

Messaging

Document management

Chat support
Landlords using the free TurboTenant plan can choose to pay for optional products:
State-specific lease agreements: $39 a lease

Lease addendums: $15 an addendum

Digital signatures: $9 a document

Landlord forms pack: $145
Premium
Includes all of the free features, plus:
Faster response time for chat support

Phone support

Expedited rent payouts

Unlimited connected bank accounts

State-specific lease agreements included in the price

Lease addendums

Digital signatures

Landlord forms pack
Software features
Professional listing page with property description, amenities, and photos

Advertising on dozens of rental listing websites, including Zumper, RentPath, and Realtor.com

Automatic lead tracking, including tenant contact information

Customized online rental applications 

TransUnion tenant screening with credit reports, criminal history background checks, and past evictions reports

State-specific leases 

Landlord forms pack with over 30 rental forms and addendums

Electronic signatures to execute leases online

Online rent payments 

Automatic payment reminders, late fees, and records of all rent payments

Maintenance and repair tickets tracked by tenants and landlords

Manual entering of expenses and assigning to the correct property and Schedule E category for tracking

Backup expense receipts

CSV transaction files for uploading to accounting software or sending to a certified public accountant (CPA)
Avail overview
Avail is now part of the Realtor.com network, which may help to increase marketing exposure. 
The software enables landlords to track rental income and expenses to see how profitable their investment is. The software also includes features for managing tenants, such as a lease builder and online rent payment options.
Pricing
Unlimited Plan
Free with:
Syndicated listings

Credit and background checks

Criminal screening

State-specific lease agreements

Online rent payments

Maintenance tracking
Unlimited Plus
$5 per unit per month with:
Everything the Unlimited Plan includes

Next-day rent payments

No Automated Clearing House (ACH) fees

Custom applications and leases

Custom lease agreements

Property websites
Software features
Listings syndicated to a dozen online rental websites, including Zillow, Trulia, Zumper, and Realtor.com

Lead management tools and messaging center

Online showing scheduling from any listing platform

TransUnion credit reports and background checks initiated by applicants 

State-specific and lawyer-reviewed lease templates

Customizable clauses and rules unique to specific rental properties

Digital signatures to execute agreements and store documents online

Automatic one-time and recurring payments to potentially increase on-time rent collection, plus rent reminders and notifications

Tenant rent payments reported to credit bureaus to incentivize tenants to pay on time

Maintenance and repair tickets created and tracked by tenants and landlords

Rental property accounting software feature that tracks income and operating expenses logged through Avail

Manual entering and editing of transactions not processed through Availkeep income and expenses accurate and up to date

CSV spreadsheets for tax time, filtered and sorted by rental property, transaction type, vendor, and more according to Internal Revenue Service (IRS) categories and transaction types
TurboTenant vs. Avail
Here's a closer look at the main features landlords should consider.
Listings
TurboTenant makes it easy to list vacant properties on many popular websites. With just a few clicks, your listing can be live on sites like Realtor.com, Apartment List, Rent.com, Facebook Marketplace, and Craigslist. Each rental property gets its own listing page on the TurboTenant website.
With Avail, rental listings are automatically syndicated to reach millions of renters on the top 12 national listing websites. In addition, landlords can manage leads online, coordinate in-person and virtual showings, and answer questions before beginning the application process. Avail also offers rent price recommendations to help landlords set competitive, fair market rents based on property location and features.
Tenant screening
Both TurboTenant and Avail use TransUnion to provide tenant screening reports, including credit, criminal, and eviction history reports to give landlords a complete picture of prospective tenants. The credit report is a soft inquiry, meaning it won't impact the renter's credit score.
Leasing
TurboTenant and Avail offer the option for landlords to use their own lease agreements or create a state-specific lease agreement online. After the lease is drawn up, it can be sent to the tenant and signed using a digital signature, then stored online. 
Depending on the selected pricing plan, both companies may charge extra fees for lease agreement addendums or customized leases. For example, landlords using the free plan from TurboTenant are charged extra for state-specific leases, addendums, and digital signatures. In contrast, the free unlimited plan from Avail includes state-specific leases.
Online rent collection
TurboTenant doesn't charge an ACH payments fee, but it charges tenants 3.49% for paying rent using a debit or credit card. Avail collects a fee from tenants of $2.50 per ACH transfer (waived for the Unlimited Plus plan) or a 3.5% processing fee for debit and credit card payments.
Financial reporting
With TurboTenant, you can keep track of all your expenses in one place. Simply enter the date, property, and expense category for each expense. Then, when it's time to give your CPA a report or upload it to QuickBooks, you can easily export all your transactions by creating and downloading a CSV.
The Avail rental property accounting tool tracks income and expenses logged through the Avail platform. A landlord can manually add one-time transactions or edit ones already in the system to keep income and expenses up to date. The rental property income and expense tracker monitors the transaction date, type, category, payer, and total amount.
Tax management
Both software programs help landlords organize transactions according to IRS Schedule E categories to make tax management and year-end reporting easier.
Income and expense transactions entered on TurboTenant and Avail can be downloaded in a CSV format, uploaded to financial software such as QuickBooks, or sent to a CPA. 
Stessa vs. TurboTenant vs. Avail
Although both TurboTenant and Avail come with a lot of features, there might be some that owners of small property portfolios don't need or shouldn't have to pay for.
Stessa, a Roofstock company, is free, cloud-based software that helps real estate investors maximize profits through smart money management, automated income and expense tracking, personalized reporting, and more:
Track unlimited single-family rentals, multifamily units, and

short-term vacation rental properties

and portfolios.

Access comprehensive performance dashboards at the property and portfolio levels.

Automate income and expense tracking by linking property bank and mortgage accounts.

Collect tenant rent payments online using a free ACH transfer.

Track expenses on the go with the iOS and Android apps.

Organize and store all real estate documents safely and securely.

Generate a wide range of financial reports, including income, net cash flow, capital expense statements, tenant rent roll, and real estate balance sheet.

Export tax-ready financials to make tax time a breeze.

Create a personalized tax package on the

Stessa Tax Center

, including an income statement, net-cash-flow report, and a ZIP file in a single email.
Stessa was launched in 2016 by 2 experienced real estate investors with 30 years of combined experience, and today it's used by more than 100,000 investors who use Stessa to track over 250,000 properties with over $60 billion in asset value.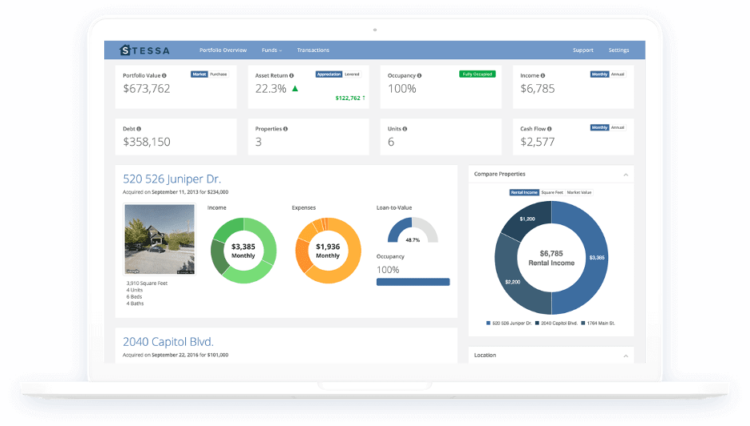 Closing thoughts
Although TurboTenant and Avail have a lot to offer, owners of small property portfolios may discover that they don't require all the features. 
Overall, Stessa may be the best solution for landlords when it comes to accounting, reporting, and online rent collection. Not only is the software free, but it also offers a wide range of features that other solutions charge for. 
In addition, Stessa was created by experienced real estate investors, so it's tailored specifically for those in the industry. If you're a landlord looking for an easy and effective rental property software solution, Stessa is worth checking out.