No matter how big or small your rental property business is, you need the right tools to make things run as smoothly as possible. In this post, we'll explore 15 single-family property management software options on the market and help you decide which one is right for your needs.
---
Key takeaways
The best single-family property management software will make your life as a landlord much easier by automating many of the tasks associated with managing your rental properties.

Look for software that has been specifically designed for landlords and property managers.

Make sure the software is easy to use and has an intuitive interface.

Check that the software has all the features you need, such as rent collection, automated income, expense tracking, and reporting.

Read online reviews of the software to see what other landlords and rental property experts think about it.
---
What to look for in property management software for single-family homes
While every investor's needs are different, here are 5 of the most important features to look for when choosing single-family property management software for your business:
1. Easy to use
The best single-family property management software will be easy for you, even if you're not tech-savvy. Look for software with a user-friendly interface that is simple to navigate.
2. Robust reporting capabilities
Reporting is one of the most important aspects of property management, so you'll want to ensure that the software you choose has robust reporting capabilities. Look for software that can generate reports on a variety of topics, such as rental income, expenses, and tenant information.
3. Property maintenance module
Maintaining your property is important for tenants and investors, so you'll want to ensure that the software you choose has a property maintenance module. This module should allow you to track repairs and maintenance requests and schedule and track preventive maintenance.
4. Offer online rent collection
The best single-family property management software should have an option for online rent collection because it is more efficient and convenient. Renters can pay their rent any time, day or night. Additionally, online rent collection eliminates the need for paper checks and envelopes, which can save time and money. And finally, online payments can help landlords keep track of late payments and easily see when a renter has paid their rent.
5. Affordable
Property management software can be a significant investment, so you'll want to ensure that it is affordable. Look for software that offers a variety of pricing options, including monthly and yearly plans, or better yet, software that is 100% free.
These are the 5 most important features to look for in property management software for single-family homes. When you choose software that includes these features, you'll be able to manage your properties more effectively and provide a better experience for your tenants.
15 popular single-family property management software systems
Now let's look at 15 options for single-family property management software that are a good match for investors and property managers.
1. Stessa
Stessa is a free cloud-based software that helps landlords of small property portfolios increase profits by automating income and expense tracking, personalized reporting, and money management:
Track unlimited properties and portfolios of single-family rents, residential multifamily, and short-term rentals.

Stessa's online rent collection tool for Cash Management users automates ACH payments from tenants with convenient automatic rent reminders.

Automate income and expense tracking by linking and syncing bank, credit card, and mortgage accounts.

View asset performance at the portfolio and property levels, 24/7, via your comprehensive online dashboard.

Run monthly reports, including income statement, net cash flow, capital expenses, tenant rent roll, and more.

Aimplify tax reporting at the end of the year with a Schedule E report.

The real estate balance sheet is auto-updated regularly to reflect changes in property values, mortgage balances, and owner's equity.

Scan and track expenses on the go with the iOS and Android apps.

Organize and store all your real estate documents, invoices, and payment receipts to create records that all investors need.

Claim your personalized tax package – including an income statement and net cash flow report – for free in the

Stessa Tax Center

.
Stessa was also ranked as the best accounting software for landlords by Landlord Gurus in 2022. This website provides expert advice on the complex and important issues landlords and property managers face. Over 100,000 investors already use Stessa to track more than 250,000 properties with a total asset value of over $60 billion.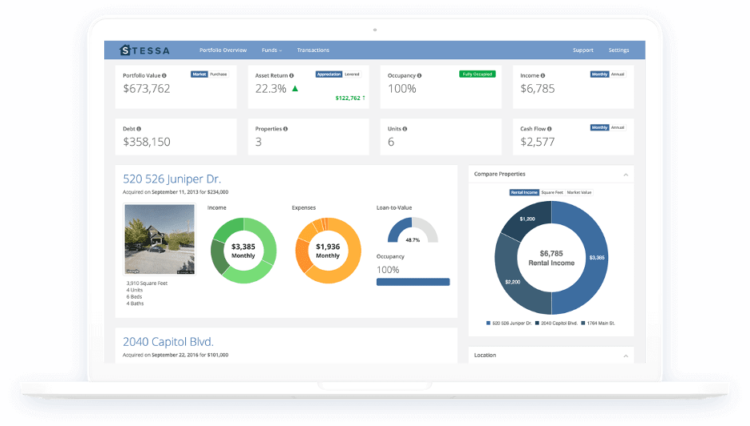 Stessa is a Roofstock company. With the Roofstock platform, users can evaluate, purchase, and own residential investment properties – whether they're first-time investors or global asset managers. The best part? They can do it all from anywhere in the world.
2. Apartments.com (Cozy)
Apartments.com (formerly Cozy) is a free program that makes it easy to do everything from marketing your single-family rentals and screening residents to signing leases and collecting rent payments. Your tenants can also use it to make maintenance requests. Apartments.com also offers optional paid services like premium listings, tenant screening, and application fees.
3. AppFolio
If you manage a large number of properties, AppFolio could be a good fit for you due to its robust features, including marketing and leasing, maintenance and operations, communication and service, accounting, and reporting. However, if you have a smaller number of properties, the minimum size requirements might not make it the best option. 
Pricing currently begins at $250/month with a minimum of 50 units, with each additional unit charged 80 cents – $1.50 depending on the package selected, plus a one-time onboarding fee based on the size of your portfolio.
4. Avail
Avail helps landlords manage their finances and properties and stay organized. The software comes in free and paid versions (currently $0/unit/month – $5/unit/month) and includes features such as marketing vacant property, tenant screening, a lease builder, online rent payments, and maintenance tracking.
5. Buildium
Buildium may be a good choice for real estate investors and property managers who oversee up to 5,000 units or more. The software can be used for all types of residential properties, such as rental properties, affordable housing developments, student housing complexes, and community associations. 
It features accounting tools, maintenance tracking capabilities, task lists, violation reporting, resident and board member communications channels, and online portals for owners and tenants. No minimum number of units is required, with current pricing from $50/month to $460/month based on the features, reporting, and support options selected.
6. DoorLoop
DoorLoop is a property management solution for single-family and multifamily properties, affordable housing, student housing, mobile homes, community associations, commercial properties, and self-storage. 
With powerful marketing and leasing tools, online rent collection, maintenance management, and CRM with a tenant portal, the software has everything you need to streamline your property management. Current subscription rates are between $59/month – $139/month, depending on the features selected and the number of units under management, with occasional discounts or promotions available.
7. Hemlane
Hemlane's platform automates tasks like advertising vacant properties and collecting rent and late fees. As a DIY landlord, you can connect with local leasing agents to take care of finding and placing a tenant while you manage the property. Various pricing plans and packages are available, presently starting at $30/month for one unit. Small landlords can be as hands-off or as hands-on as they want, utilizing the company's leasing and property management software features.
8. Innago
Innago software provides a number of features for rental property management, including listings, online tenant screening and leasing, rent payments, a tenant portal for maintenance requests, and financial tracking and reporting. There is no cost to set up the software, no monthly cost, and no contract required. Innago makes money by charging tenants for screening and online rent payments, although landlords have the option to pay for these services themselves if they prefer.
9. Landlord Studio
The Landlord Studio app includes simplified accounting and tax reporting, tenant screening, online rent collection, and document management for multiple properties. If you have a vacant property, you can create a listing on the Landlord Studio website. This will include images of your property and a tenant screening portal. You can then post the link to your listing on popular rental listing websites of your choice, social media, and emails. 
Current pricing ranges from $6.99/month to $35.99/month for one unit, depending on the selected plan, with advertised discounts for annual billing and a 14-day free trial.
10. Marble
Marble's virtual rental management system will take care of your rental for a flat fee of $50/month per unit as of September 2022. The service is used by over 200 owners, managing over 400 properties, according to the company's website. 
Features include rental advertising, prospective tenant tours, applications and screening, maintenance coordination, financials, and online rent. There's no placement fee for new tenants, no markup on maintenance or work after-hours or on holidays, no setup fee, and no contract. 
11. Propertyware
Propertyware was designed to address the specific challenges faced by residential managers and single-family property owners. The software has a number of features, such as online leasing, maintenance, accounting, and risk management. 
However, Propertyware may be better suited for investors and property managers with larger portfolios. While there's no minimum unit requirement, the company currently charges a minimum monthly fee of $250 (equivalent to 250 units) plus a one-time implementation fee of $500 or more (2 times the monthly subscription price). Additional services are also available for an extra fee, including property websites and maintenance and leasing contact centers.
12. Rentec Direct
Rentec Direct is an online property management software system that landlords, apartment owners, and property managers can use to streamline their operations. 
The software provides features like tenant screening (at an additional fee), online property listing, tenant screening, uploading and signing lease documents, online rent payments, maintenance, and work order management, automatically tracking income and expenses, customized financial reporting, Schedule E tax reports, and QuickBooks data synchronization. The company currently offers 2 pricing packages starting at $35/month.
13. RentRedi
RentRedi offers a comprehensive property management software solution designed specifically for landlords. Some key features of the RentRedi platform include listing vacant properties on popular rental listing websites, tenant screening and online leasing, rent collection, maintenance request processing, and full financial reporting. 
The company currently has 3 different pricing plans available, with rates starting as low as $19.95/month. Additionally, RentRedi partners with REI Hub to offer accounting plans for landlords who need financial reporting, starting at just $15/month for up to 3 units.
14. TenantCloud
TenantCloud offers an online payment system and leasing management system to help landlords with a configurable online platform to manage properties and tenants. The company currently offers 4 pricing levels (including a free plan) starting at $15/month based on selected features and a customized pricing plan for large landlords. 
Software features include listings, tenant screening, e-signing leases online, rent collection, QuickBooks online synching, and tax reporting.
15. Zillow Rental Manager
This platform provides an easy way for landlords to advertise their rental properties and find qualified tenants. Landlords can give potential renters a virtual tour of the property, run credit checks, sign electronic leases, and even collect rent payments online. 
Although Zillow Rental Manager doesn't automate income and expense tracking, landlords can download a free worksheet to help them manually keep track of up to 5 properties or units.